Self-Portrait - 1889
Ears, shmears! Who needs them when you can paint?! Vincent Van Gogh certainly didn't. Well, at least he felt that he could do without part of his left ear, but what he could do with a paint brush was miraculous. This Post-Impressionistic painter is certainly one of the world's finest Master Artists and is the focus of this week's
Budding Artists
children's art workshop at the London Farmer's Market. The workshops are 90 minutes of fun, art history and a few lessons in technique in the vein of the master himself - Van Gogh. Let's take a look at what Van Gogh accomplished in his short 37 years.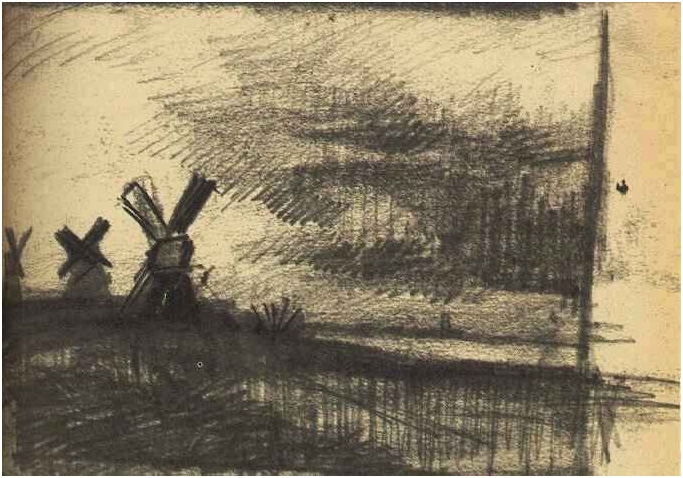 Windmills at Montmartre - 1877
Vincent Van Gogh was born in Groot-Zundert, the Netherlands on March 30, 1853. He was the son of a pastor, and hailed from a long line of artists and art dealers. He became interested in art at an early age, and flourished in Middle school when he received lessons in drawing from a successful artist there. By the time he was 20 years old, he had obtained a job as an art dealer in London, with the help from an uncle. One of the happiest periods of his short life, he sketched and drew in his extra time, when he wasn't dealing in Art. After being transferred to Paris in 1875, he fell on the outs with Goupil & Cie, the company he had been working for, and left them to return to London.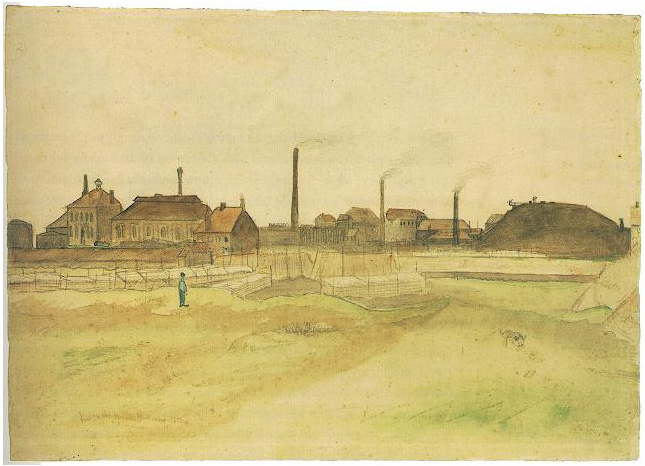 Coalmine in the Borinage - 1879
Disillusioned with the world of art dealers, Van Gogh turned to religion. He had always had a strong religious faith, but by 1876, he felt the urge to devote himself to the Church. He entered the school of theology in Amsterdam, but it quickly became apparent that he would not flourish in this path. He dropped out of school, then failed an admission test to enter a mission school in Laeken. Undeterred, he applied to a missionary post in Borinage and tried his hand at bringing religion to the people there. While his zeal was almost fanatical, the powers that be were not impressed. After only six months, they dismissed him from his post. Despite this, Van Gogh remained in the area for over a year, trying to help the residents of the impoverished area and himself, both living a life of poverty. Ultimately, via suggestions by his brother Theo, he left Borinage behind. With a failed marriage proposal to his recently-widowed cousin, he also left his religious faith as well.
Woman Sewing,
With a Girl - 1883
It was at this point that Van Gogh reacquainted himself with his cousin Anton Mauve. Mauve introduced him to the world of watercolours and oils and ignited in him a new passion. With a career as Artist in sight, Van Gogh flung himself into this new occupation. It was at this time that he also met Clasina "Sien" Hoornik. An alcoholic, pregnant prostitute with a young daughter in tow, Van Gogh fell in love with his dear Sien. Their rocky relationship was marred by poverty and much fighting, but he was devoted to her children and often used Sien as a model. Van Gogh's family was not impressed though and they demanded he leave her. After spending three weeks in hospital, due to a case of syphilis and gonorrhea that he contracted from Sien, he was finally swayed.Van Gogh left her in 1883, after spending just over a tumultuous year together.
The Potato Eaters - 1885
Disheartened by another love lost, Van Gogh returned to his family's home in Nuenen and devoted himself once more to drawing and painting. He spent two years there, often-times sketching peasants. It was during this time that he painted one of his most famous works "The Potato Eaters", although it wasn't until long after his death that it received public attention. Struggling emotionally, financially, and artistically, he decided to move to Antwerp and studied the works of Peter Paul Rubens, as well as Japanese artwork. While his exploration of colour theory helped to broaden his colour palette, his locale only served to deteriorate his health. By 1886, Paris beckoned and Van Gogh moved in with his brother Theo.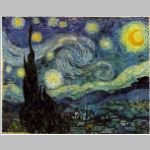 Starry Night - 1889
The last few years of this troubled artist's life were incredibly productive, but also fraught with much strife. He lived with his brother Theo for most of the two years he was in Paris and during that time met the likes of
Claude Monet
, Camille Pissarro and of course Paul Gauguin. The bright colours that were rampant in the Impressionist movement influenced Van Gogh's own palette and suddenly his dark pieces disappeared, replaced by the bright colours that he is most famous for. The break from excess (drink, smoke, poor diet) that he hoped to achieve with a move to Arles, sadly did not improve Van Gogh's lot. While he continued to paint and draw, his health spiralled out of control. He committed himself to an asylum, but even that respite was not enough to save him. On July 27, 1890, the world lost an incredible artist, when Van Gogh shot himself in the chest. Two days later he was dead, from complications during his treatment. Despite the mental and physical illnesses that he struggled with throughout his life, he left behind a legacy of art behind. He painted nearly a thousand paintings, over a thousand drawings and sketches, as well as enough letters (mostly to his brother Theo) to document his incredible journey through life. While he only sold one painting during his lifetime, they now go for upwards of $100 million. Quite the feat, and one that has influenced a myriad of artists since then.
Perhaps its time that your child discovers the magic of this tragic master artist. See you June 16th!