Sun Prairie,Wisconsin can be proud to claim this week's Master Artist as their daughter by birthright. We are talking of course about the talented American artist Georgia O'Keeffe, who was born there on November 15th, 1887. Daughter of a dairy farmer, she decided that the artist's life was the one for her. Art training she received from a local watercolour artist when she was ten only fueled that dream and after graduating from high school, she enrolled at the School of the Art Institute of Chicago, which she attended from 1905-1905. She continued her studies in New York City, as a member of the Art Students League in 1907, but by 1908 gave up on the idea of a career as an artist.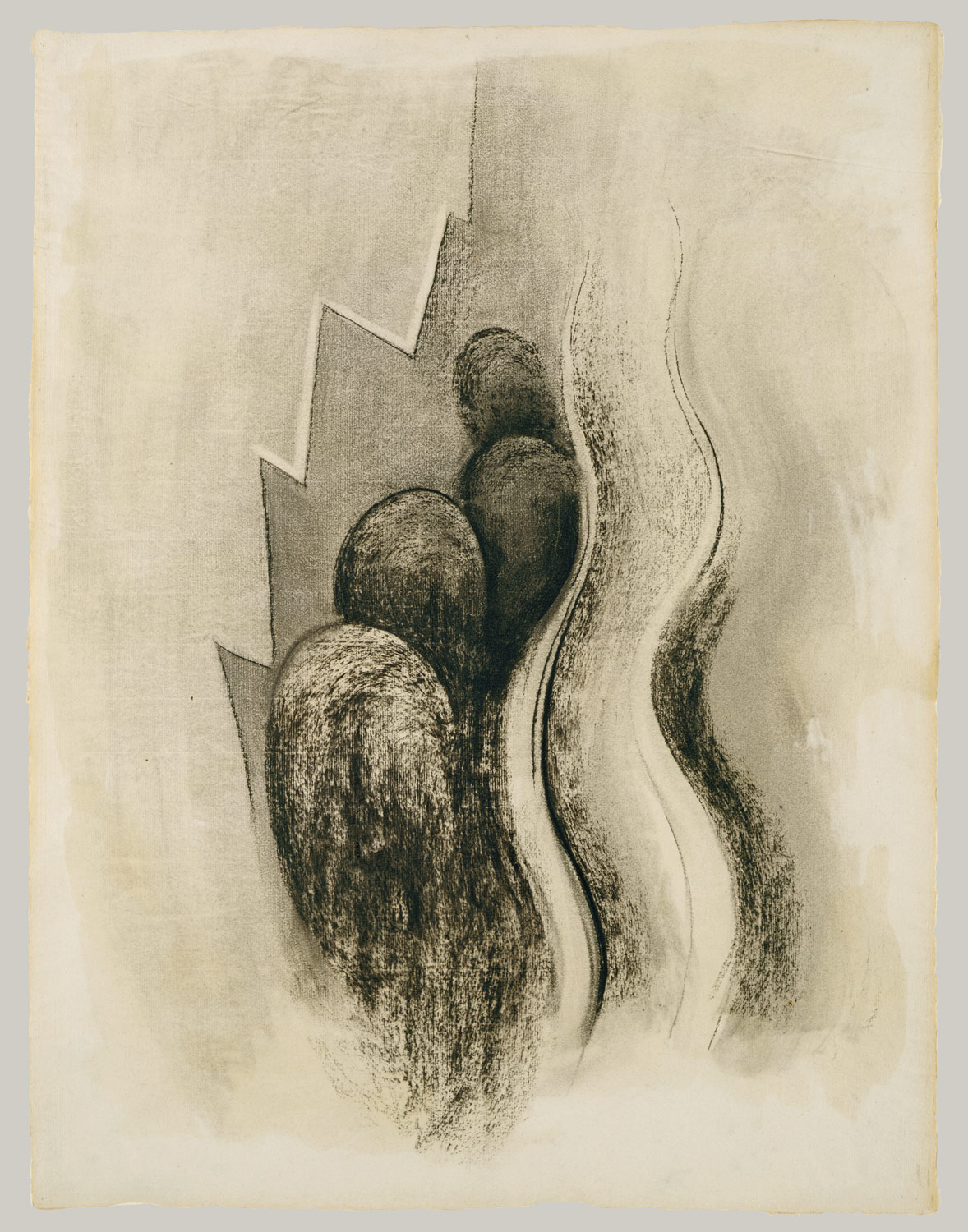 Drawing XIII - 1915
For the next four years O'Keeffe worked as a commercial artist in Chicago, never once touching a paint brush. It wasn't until 1912, when she took a summer art class where she was introduced to the stylings of Arthur Wesley Dow, that her interest in painting returned. This was followed by a move to Amarillo, Texas to work as an art teacher. She taught in Texas for two years, then relocated to New York City to attend Columbia Teacher's College. When she completed teacher's college, she moved to south Carolina to work at Columbia College and during that time period worked on some charcoal sketches. The choice to mail them to a friend in New York was to alter the course of her life forever more.
Green Lines and Pink 1919
When O'Keeffe's drawings left her hands, with the help of her friend, they found their way into Alfred Stieglitz's famous "291" gallery. While O'Keeffe was very much aware of Stieglitz's gallery and reputation, she was not made aware that her drawings were on display prior to their showing. Originally upset, she spoke to Stieglitz herself and then agreed to let the pictures remain. This was to mark the beginning of a relationship that would see them married by 1924.
Red Canna - 1923
While Stieglitz was a generous fan, regularly displaying O'Keeffe's paintings at his gallery, it was her continuing skill and paintings that merited all the attention that she begot. She experimented in abstracts with charcoal and watercolours, developing an eye that captured New York's landscapes in a vivid way. She also painted many of her now famous large flower pieces that took the art scene by storm.
Horse's Skull with White Rose - 1931
Needing to find a new backdrop to draw inspiration from, O'Keeffe travelled to New Mexico in 1929. She was immediately enchanted with the wide open spaces, bright sun and bleached bones that seemed to be scattered everywhere. Her artistic muse came alive once again, this time set off by the rugged surrounding mountains that she returned to every year for upwards of six months at a time to escape to solitude and her paintbrush. Her canvases bear witness to her love of the New Mexican landscape, as bones, rocks, trees and the sky dominated her work throughout this time.


Pelvis I (Pelvis with Blue) - 1944
With the death of Stieglitz in 1946, O'Keeffe permanently made New Mexico her home. Known for her solitary ways, she continued to paint, with a series on pelvic pictures during the 40s. Another transformation to her work came when she began her world travels from the 50s-70s. She became fascinated with the view outside her airplane window and captured it in several large series, both proportionally and in number of works. As she neared her 80s, O'Keeffe's eyesight began to fail her, which in turn affected her artistic output. With the encouragement of Juan Hamilton, she re-entered the art scene briefly creating pottery and a few more paintings with assistance. On March 6th, 1986, O'Keeffe died at the age of 98.
On Saturday March 3rd, Budding Artists will take an indepth look at Georgia O'Keeffe and the legacy that she left behind in her over 900 paintings that she created. The children's art workshop will feature games, art history and an opportunity to create an O'Keeffe-inspired masterpiece of your child's own. Workshops are held at 10am and 1pm at the Western Fair District in the London Farmer's Market. Sign your child up today, so they don't miss out on the fun!